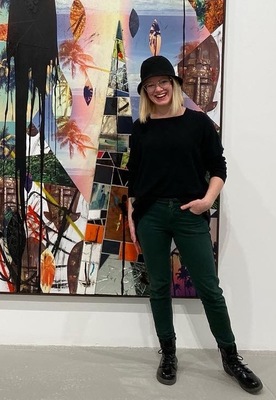 Image: Standing in front of a work by Rashid Johnson, at Hauser & Wirth Gallery, NY, 2019
Katy Diamond Hamer
Statement
I am the Founding Editor of the art and culture website Eyes-Towards-The-Dove and freelance as a professional art writer. Focusing on art reviews, previews, top picks, features and interviews, I cover contemporary art and culture with interests in the Italian Renaissance and Modern art.
My approach to art writing is quite organic. I have spent many years looking at art, investigating technique, approach, and the psychology behind the subjective content. I try to insert myself into the work and imagine what the artist might have been thinking when making the piece and what if anything it says in the breadth of art history. Certain movements have been very relevant to my writing practice and taste level, most specifically Arte Povera (Italy, 1962-1972).
Publications I contribute to include Grand Life, The Creative Independent, The Art News Paper, Cool Hunting, Cultured Magazine, Galerie Magazine, Flash Art International, W Magazine, New York Magazine (Vulture), and many others. Interview highlights include subjects such as Robert Storr, Courtney Love, Lyle Ashton Harris, Brett Gorvy, Rebecca Horn, and Helmut Lang.

Additionally I am an Adjunct Faculty of Summer School at the Sotheby's Institute of Art and a Continuing Education Faculty at the New York School of Interior Design. Both as of 2019.
Katy Diamond Hamer is currently based in Williamsburg, Brooklyn.