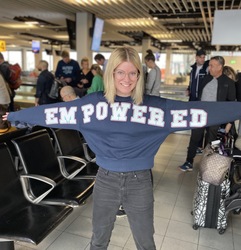 Image: At Schiphol Airport, Holland, 2019

KATY DIAMOND HAMER
based in Brooklyn, New York

Education:
New York University, Steinhardt School of Education, New York
M.A., Studio Art, 2009, Magna Cum Laude
NYU facilities in New York, Venice, Italy & Accra, Ghana
Studied with Lyle Ashton Harris, Gerry Pryor, Maureen Gallace, Keith Mayerson, Nancy Barton
The Fashion Institute of Technology, New York
B.F.A., Fine Art Illustration, 1999
Magna Cum Laude, Liberace Scholar, Presidential Scholar
With extended study at Polimoda, Florence, Italy

Arts Writing:
Grand Life, Soho Grand Magazine Contributor, 2018-Present
I contribute contemporart art and downtown New York content. Hightlights include interviews with Leo Fitzpatrick and Jose Freire of Team Gallery.

The Creative Indepdent, New York Contributor, 2017-Present
The Creative Independent features slow-internet methodology. They post one interview a day, and I've contributed interviews with Ursula von Rydingsvard, Drag Syndrome, Eckhaus Latta, and Sue de Beer.

Galerie Magazine, New York Contributor, 2017-Present
Currently contributing to Galerie Magazine with a focus on contemporary art, lifestyle and the art market.

Artnet News, New York Contributor, 2016-Present
I have written various stories for Artnet including a recent review of "The Young Rembrandt, Rising Star" an exhibition at the Museum De Lakenhal in Leiden, the artist's hometown. I was invited to Holland and was the only American Jouranlist on the trip. Past coverage includes a market report from the 2016 Biennale des Antiquaires in Paris, an introduction to a monograph focusing on the UBS Art Collection, a review of Marisa Merz at the Met Breuer, an article on Cory Arcangel and Olia Lialina at the Kitchen and more.

Eyes-Towards-The-Dove.com Founder, 2007-Present
Online venue that focuses on contemporary and emergent art. Coverage is based on art reviews, interviews, studio visits and previews. We have rotating contributors but currently our Editorial Assistant Jongho Lee has been a regular contributor for the past several years and is one to watch both as an artist and writer.

New York Magazine, SEEN, Vulture.com Contributor 2015-Present
I've written several articles including "26 Female Artists on Lynda Benglis" (which went viral on twitter), An interview with "Jerry Gorovoy on working with Louise Bourgeois", "10 Black Artists on Ebony and Jet Magazines", Working with Senior Art Critic Jerry Saltz and editor David Wallace-Wells, each of these articles attracted a multitude of attention globally.

Cultured Magazine, Miami/New York Contributor, 2016-Present
I have done several high profile articles for Cultured Magazine including speaking to Helmut Lang, Cecilia Alemani, Shayne Oliver, a preview on the new Italian art space with a focus on Arte Povera in the Hudson Valley called Magazzino and others.

W Magazine, Conde Nast, New York Contributor 2015- 2016
Online contemporary art coverage including Paul Chan at the Guggenheim, Michael E. Smith at the Sculpture Center, Trisha Brown dance troupe at the Judd Foundation and more.

Flash Art International, Milan New York Correspondant, 2011-2016
I have a contributed countless reviews to Flash Art International. Highlights include texts on artists Laurie Simmons at the Jewish Museum, Rebecca Horn at Sean Kelly, Gregor Hildebrandt at Galerie Perrotin, Tobias Rehberger in collaboration with Rirkrit Tiravanija, Ragnar Kjartasson in performance at MoMA PS1 amongst others.

Frieze d/e: A Talk with Clara Meister, Ludlow 38

TEACHING EXPERIENCE:
Sotheby's Institute of Art: Summer School, 2019
I taught a summer intense on PR, Marketing and Communications in the Artworld to a group of 21, mostly international students. The course allowed me to exhibit my perception of PR and Marketing through the eyes of an art writer, and included several guests to the classroom and site visits.

NYSID/New York School of Interior Design, 2019
Adjunct Faculty, Continuing Education: I teach Social Media for the Interior Designer and also How to Curate Interiors with Contemporary Art, both Spring and Fall 2019.

Co-teaching with Lyle Ashton Harris: Since studying with Lyle Ashton Harris at NYU and doing an assistantship, I have been a guest in his classroom and continue to work with the students several times per semester. The class is Performance Art and Photography and is focused on critiques, engaging students and one on one meetings to discuss final projects.

Teaching Assitantship with Lyle Ashton Harris 2009-2011
Studio Assistant and T.A. both in New York & Accra, Ghana
Assist in the classroom, both in critiques and lectures (Ghana)
Email correspondence between Artist and CRG Gallery, Gregory Miller and Co., as well as other NYU Faculty, Scanning and retouching of photographic material for exhibition in large scale format, Organize slide presentations, based on particular classroom related discussion., Partake in selection process for National Service Students in Accra, Ghana related to a private collection of West African Art and collaboration with NYU at the Dei Center
PROFESSIONAL TALKS/PANELS/INVITATION TO CRITIQUE:


2019
BFA Student Final Project Critiques with Marlene McCarty
2017
Sotheby's Institute, Guest Lecturer,
Contemporary journalism, art business and art history
Panel discussion
at Catinca Tabacaru Gallery, New York

Panel discussion
at Rood Gallery, Red Hook, Brooklyn
2016
Art Basel Miami Beach, Guest Speaker invited to speak on a panel called "
Art Basel Miami Salon Series:
Art Basel Miami Salon Series: Reclaiming Networks, Global and Local
"
Sotheby's Institute,
Guest Lecturer, Contemporary journalism, art business and art history
NYU,
Performance Art Crititque, Thesis review
Hofstra University,
Guest speaker to studio art class
Univeristy of Pennsylvania,
Guest speaker to contemporary art and photography students including a guided tour to visit Chelsea galleries
Panel discussion
at the New York Academy of Art, NY organized by Sharon Louden
2014
NYU, Performance Art Critique
, BFA Class, Professor Lyle Ashton Harris
2013
Triangle Arts Residency,
Dumbo, Brooklyn, Studio visits and on the jury selection for upcoming Resident Selection
Residency Unlimited,
Brooklyn
Columbia University,
New York
New York University, New York (Fall Semester)
LMCC Governor's Island
2012
Visiting Artist/Critic Greeceworks
A new residency formed by Christina Thomopoulos in Athens, Greece
Bringing together American and Greek artists with the goal of focusing on public space
Art Mentor, for NYU Studio Art students 2009-2011
Worked with several NYU students in a mentor format, speaking about art, critical thought and studies, as well as career choices and opportunities.
Teacher's Assistant, NYU Fall Semester 2007
T.A. for Brandon Stosuy (Stereogum/Pitchfork) and Jason Murison (Friedrich Petzel Gallery)
Downtown Scene of New York from the 1980's-90's, punk music, street art, and NoWave film
Responsible for organization of classroom materials and readings
Assisted in reading weekly papers which were direct response to class material
Answered student questions regarding, the sensitivity to class content, personal concerns, and class assignments.
LANGUAGE:
English (mother tongue), Italian (fluent)
2003: Scholarship from the Italian Cultural Institute of New York
Art Career (Currently not in practice):
SOLO EXHIBITION:
2008
"Katy Hamer", The Rosenberg Gallery,
New York University, Steinhardt School of Education, New York
CURATING:
Curator, Reverse Codes, Group exhibition, Scouting venue, New York ~Upcoming
2010
Curator, "NYU in Ghana, The First Five Years" NYU Commons, New York
Student exhibition featuring artwork from Alumni from NYU Steinhardt's program in Accra, Ghana commemorating the first five years of New York University's facilities in Accra.
2009
Assistant Curator, "Perceptions", NYU in Accra, Ghana
Organized an exhibition for Undergraduate students from New York University along with Lyle Ashton Harris
Lecturer at New Hyde Park Memorial H.S. New York:
SELECT GROUP EXHIBITIONS:
2013
Triangle Arts Residency Annual Auction
2012
-NYU Venice Exhibition, 80WSE Gallery, NY organized by Gerry Pryor, Michael Cohen, David Darts and Peter Campus (catalogue available)
-December Store, Antwerp, Belgium, organized by Vanessa Albury, Sorine Anderson, and Jan Van Woensel
-Artists Merchandising Art, Wonderloch Kellerland, Berlin and LA
2011
-GNFR, Curated by Jan Van Woensel, Monty Art Space, Antwerp, Belgium
-DAC Holiday Exhibition, organized by Olivia Eckfeld and Karl Erickson
-Voyeur: Seen and Be Seen, Brooklyn Artists Gym, New York
-Postcards from the Edge, Visual AIDS Benefit, CRG Gallery, New York
2009
-Nsoroma: The Legacy of Joe Nkrumah, The Dei Center,
Tesano, Accra, Ghana, organized by Lyle Ashton Harris (catalogue available)
-M.A. Thesis Exhibition, 80 Washington Square Gallery, N.Y.U., New York
(catalogue available)
-Perceptions, NYU in Ghana, co-curated by Mawuli Tofah and Katy Hamer
INTERNATIONAL RESIDENCY:
The International School of Art, Montecastello di Vibio, Italy 2001